As a part of a larger project I am working on at the moment, I have decided to invest in some new equipment for manufacturing / fabrication. This is the first in a series of posts where I will discuss some of the equipment I am looking at.
The first piece of equipment that I would like to talk about is a CNC Mill.
CNC Mill
The CNC mill I have chosen is a MyDIYCNC unit from MyDIYCNC.com. To quote Stephen from the project description:
"Born out of frustration with the lack of inexpensive, straightforward and easy-to-build CNC machines I designed a DIY desktop CNC package that addresses all the objections I had with available machines."
The project was actually started on Kickstarter (which is where I discovered it). At the time of writing the main MyDIYCNC.com was not yet taking orders (however I do have a kit on order as a result of backing the project on Kickstarter).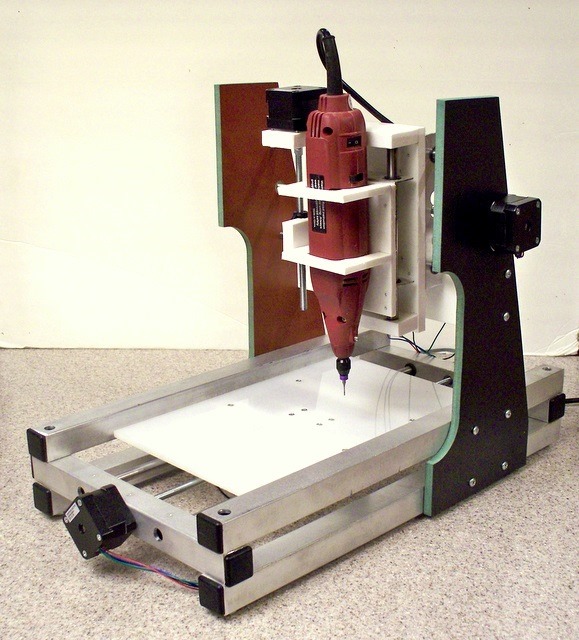 (Image courtesy of MyDIYCNC.com)
There are a number of reasons why I chose to back the project (and ultimately end up with the finished product). I would be lying if I didn't say that price was a factor. At USD 390 for a complete kit, this represent not only good value for money (in my opinion), but a new low price point for CNC mills (traditionally they have been closer to $1000). Although I could have sourced my own parts locally (which I did consider), in this instance I opted for a kit as it gave me confidence that I will be getting all of the correct parts, the first time.
The second reason I chose to go with the MyDIYCNC product was that (in my opinion) it is a well engineered package. It is based on good design principles without being an overly complex design. The result is a kit that should be easy to build and maintain. Also, items like the stepper driver boards and anti-backlash nuts (which he designed) are more example of elegant simplicity in the design. While Stephen could have used off the shelf items for many of the components, by putting the effort in he was able to meet all of his design goals.
Unlike some other designs that people have made available, Stephen is planning on making the product available as a commercial offering. The result of this is a product that is more robust and well designed; as it needs to be accessible to other people (i.e. it's not just a once off item).
A third reason I like the product is that it has been designed in a very modular way. What this means for me is that I can (for instance) very easily make a much larger work bed using the same design. Or I can replace the spindle with a different type of head (a laser cutter for example).
Now, I do have to point out that at the time of writing this, I do not yet have my kit. The Kickstarter project was successfully funded, and now Stephen is in the process of obtaining all the raw material and assembling the items / kits. Once I have taken delivery of my kit I will post more information.
If you have any questions or suggestions, please leave a comment below.